This year, Edinburgh Festivals Innovation Lab is working hard to open up data about the  festivals. I've just spent a day at their hackday, Culture Hack Scotland and now I want to announce 3 sites.
FakeFringe challenges players to pick out the fake fringe show from the real one. You can submit a fake show and see how many players you can fool.
FringeWars pits fringe shows head to head and asks you to vote.
Both these sites compile charts of the best and worst shows, and are intended in a playful spirit. But they have a serious side; the chart of best shows should be valuable data for people writing Fringe shows marketing in the future.
I worked on both these sites before the hack day, and they are open now. At the introduction to the hack day, I announced an idea and showed all the work I had done on it so far: a 10 minute mock up of the home page: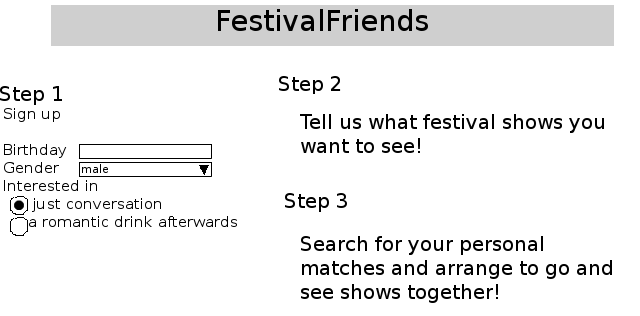 The fantastic Sarah Drummond from WeAreSnook joined me, and we made a full set of mockups and a working prototype over one hectic day. The slideshow with our final presentation is here:
We hope to take all these ideas forward in the future: Watch this space!