Recently one project has been launched and another announced all from the same code base.
It all started with NESTA's Make It Local competition. This required councils to open some new data and start a new digital service with it. The code should also be Open Source. Me and Edinburgh Council entered, and won the prize: a grant to fund development! Today the result Edinburgh Outdoors was launched (Article and video).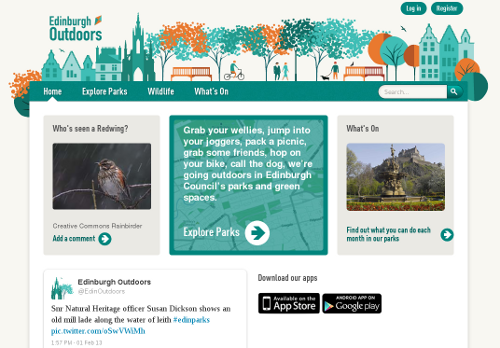 After that the Edinburgh International Science Festival got interested. With any public charity money is tight, and they couldn't have afforded to develop from scratch. But by building on the Open Source code we managed to put a project together and yesterday the festival programme was announced with this: the City Sci-Quest! Some new features are being developed for this and they will be released Open Source to.
The Open Source software is released on Github (Wed and Android, iPhone/iOS coming soon) and at the moment it's more of a code dump than a full project. Things like documentation are needed, and making the code more modular would be good.
So what does this all do anyway?
It lets you run a website and native apps that list points of interest on a map and in categories and lets people find them. Users and anonymous browsers can comment or upload photos (moderation is an option).
There is also a game element. Administrators can set questions that users have to answer, with points being awarded and a leader-board being shown. Different types of questions can be set:
Freetext lets the user type in anything as an answer. The administrators can set multiple correct answers so if the answer has two spellings that are popularly used then both can be recognised as correct.
Multiple Choice lets points be awarded based on how many tries the user takes, with several answers having the capability to get points. One answer can get more points than others.
Higher Or Lower is a question with a numerical answer. As the user guesses they are told "to high" or "to low". Points are awarded based on the number of tries taken. A range of numbers (eg 3.5 to 4.1) can be set as the correct answer .
Content questions ask the user to send a photo or some text to be displayed publicly, and the moderator can award points.
For every question, an additional explanation can be shown to the user after they have got it correct. This allows the game to be an educational experience.
Users can currently log in with an email address and password or Twitter.
There is a web admin interface and a very basic CMS is included. One way of showing static content from this is by month; so you have one page with all the months in the submenu and a different static content page for each one.
The Website is PHP & MySQL.  A lot of data is versioned in the database, although there aren't friendly user interfaces to view that history.
I'm really looking forwards to seeing this idea develop, and also hopefully seeing this develop into a full Open Source platform.
Others involved are Sally Kerr at Edinburgh Council, Matt Wright at Edinburgh International Science Festival, Marius Ciocanel who is coding the iOS/iPhone version and Eskimo who did the Edinburgh Outdoors design.