I've put together a calendar to list all the Edinburgh Farmers' Markets. Having them all in one place makes it easy to see what is going on, and you can export the data into your own personal calendar. So if your local market is monthly (like in Juniper Green) you can have a easy reminder of when it's next on.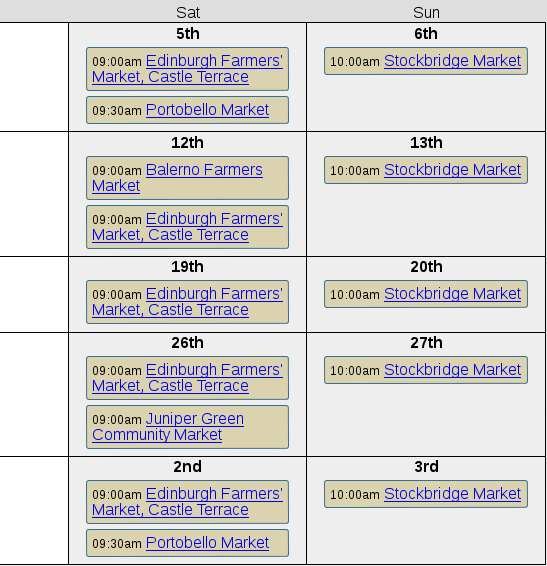 Also, anyone can add a local market they know about! We can all work together to share knowledge and help each other find cool markets.
It's easy to add your local market.
1) Go to the calendar and create a user account. You'll have to verify your email address.
2) Go to the list of Market's on the Calendar and click "New". Add as many details as you know, leave blank anything you don't!
3) Click "new event" and add the dates for the next market you know about. You can add a venue for it and describe how to find it at the same time.
4) You are now looking at the listing for the next market! Click "Recur" and select "monthly" or "weekly". You'll be given a list of dates we think the market is on. Make sure they are correct and create them.
That market is now listed – thanks! To browse the upcoming markets, go here – have fun!
If your interested in having a calendar using the same software for your own group or interest, get in touch and we'll chat!